For showtimes, click here.
Gentlemen Prefer Blondes was based on the Broadway musical adapted from Anita Loos' book. After some major tweaking to make it ready for Jane Russell and Marilyn Monroe, it helped launch the career of Hollywood's newest blonde bombshell.
1. Another actress was considered for Monroe's part first.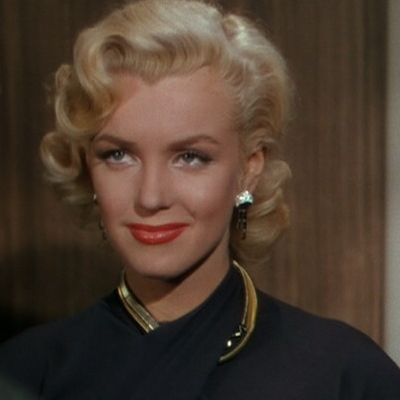 Originally, Betty Grable was supposed to lead the film. However, by the time it was ready for production, 20th Century Fox's studio head Darryl Zanuck felt that her salary at the time and her diminished popularity disqualified her. Marilyn Monroe, who had just worked with Howard Hawks in Monkey Business, had a much better salary – only $18 dollars a week per her contract. Monroe only made $18 thousand for the film, while Grable would have cost $150 thousand.
2. Russell was the big star.
Since Monroe's career had yet to take off, Zanuck wanted Jane Russell for the lead. Since she was under contract to Howard Hughes, Fox paid to loan her out and also agreed to pay RKO's fees for the cameraman, makeup, and wardrobe that would assist the star. The secondary part of Lorelei was also significantly increased since Russell was getting top-billing.
3. The Diamond number was too hot at first.
The original idea for the "Diamonds Are a Girl's Best Friend" sequence was to have Marilyn Monroe seemingly naked surrounded by diamonds in a pink and black bed. But it was toned down for fear that it would be too sensual. Apparently, Zanuck was still unsure if Monroe had what it took to make it and requested that she sing for him personally, curious to see if that was truly her voice in the song. Monroe obliged.