For showtimes, click here.
Producer Merian C. Cooper always envisioned The Searchers to be a reunion between director John Ford and John Wayne. At this point, the pair had worked together on seventeen films, with their last movie Hondo released in 1953.
Wayne said, "I really looked forward to that picture. I was back with the Coach, and I was playing a role that I felt could be the best I'd had since She Wore a Yellow Ribbon or even Red River."
1. It was based on a real incident.
In 1836, Cynthia Ann Parker was kidnapped by Comanche warriors at the age of nine. Almost twenty-five years later, Texas Rangers confronted a Comanche camp and discovered Parker. By now, she had married into the tribe and had three children. She refused to leave. Her story along with other similar child abduction stories from the West influenced Alan Le May, author of The Searchers.
2. Wayne's character had a secret.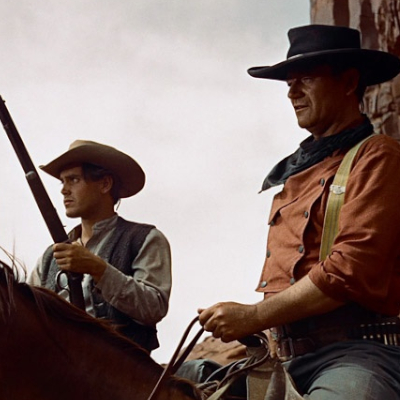 Ethan is a dark, complex character in The Searchers, and it was a challenge for John Wayne. However, a key plot detail about the character was never mentioned on screen. Wayne said, "A lot of people ask me why Ethan had become so hell-bent on killing Debbie and then, at the final moment, takes her home. Pappy [Ford] was clever because he hinted, and so did I, that Ethan had had an affair with his brother's wife… When Ethan picks up Debbie at the end, I guess he saw in her eyes the woman he loved. That was enough to overcome his hatred."
3. It filmed in the middle of nowhere.
The film required a lot of construction to create the town. Unfortunately, the location, Monument Valley, was the farthest spot from any railroad in the entire United States. The area was known for its fierce wind storms which threw red dust around. Since it was extremely remote, there were no roads, no access to phones, and water was scarce.
4. Natalie's sister played her younger self.
John Ford needed two actresses to play Debbie – one younger and one older. Once he had cast Natalie Wood, he discovered that she had a sister who was nine years old. So he decided to cast her as the younger Debbie. Natalie Wood recalled her experience working with John Wayne and commented, "Everyone had always told me, 'John Wayne's no actor. He always plays the same part.' I can tell you, Mr. Wayne was a very fine actor."
5. Wayne's son had his first big part.
By 1956, Patrick Wayne had some television and film credits, though nothing to the extent of The Searchers. Because of this, he was very nervous. He recalled, "It was unnerving with all those professionals standing around, most prominently my dad… and the director was my godfather. I wanted them to be proud of me." To complicate it further, Patrick didn't know what the director had up his sleeve when they filmed one of his first scenes. Ford had given Wayne and Bond secret instructions. "None of the interruptions were in the script. Whenever Ward Bond or my dad broke in, all that stuff was ad-libbed. But I just kept plowing through because I didn't know what else to do. But that had been Ford's plan all along," he said.